We welcomed the guests to our backyard and asked for their autograph on a record. All the records used in this party were handed down to me by my dear Grandmother Joyce.
On the invitation, we asked each guest to come dressed in their favorite Band or Rock T-shirt. It was amusing to see all the different types of music people enjoy!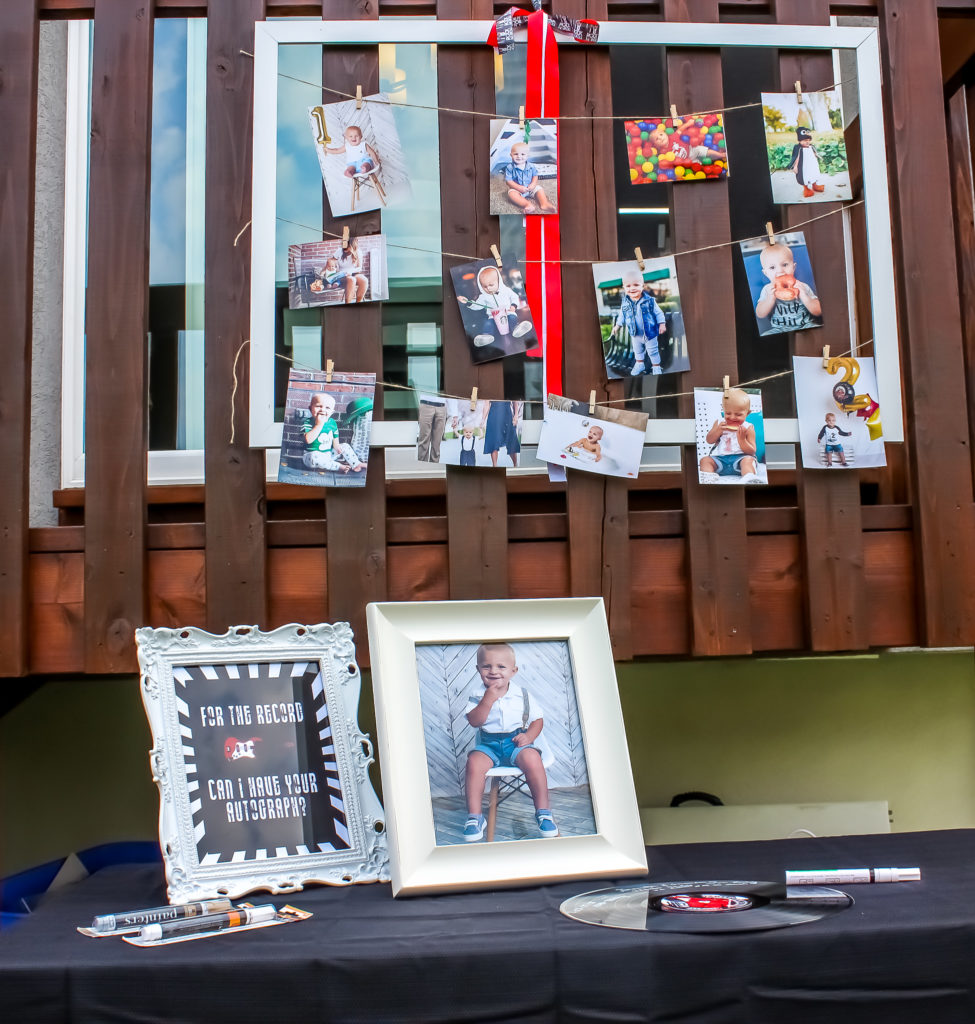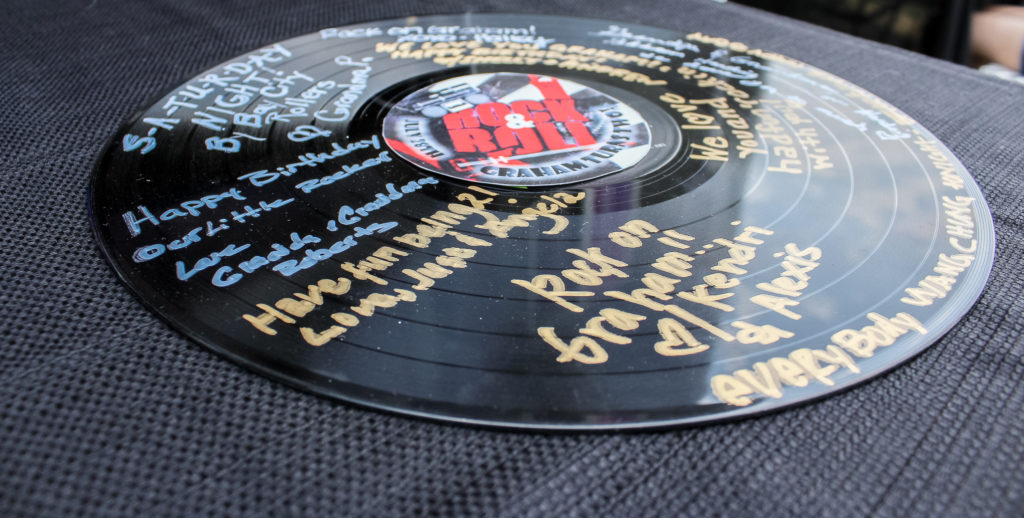 I displayed photos of Graham from each month during the past year, it's crazy how fast he grew and changed.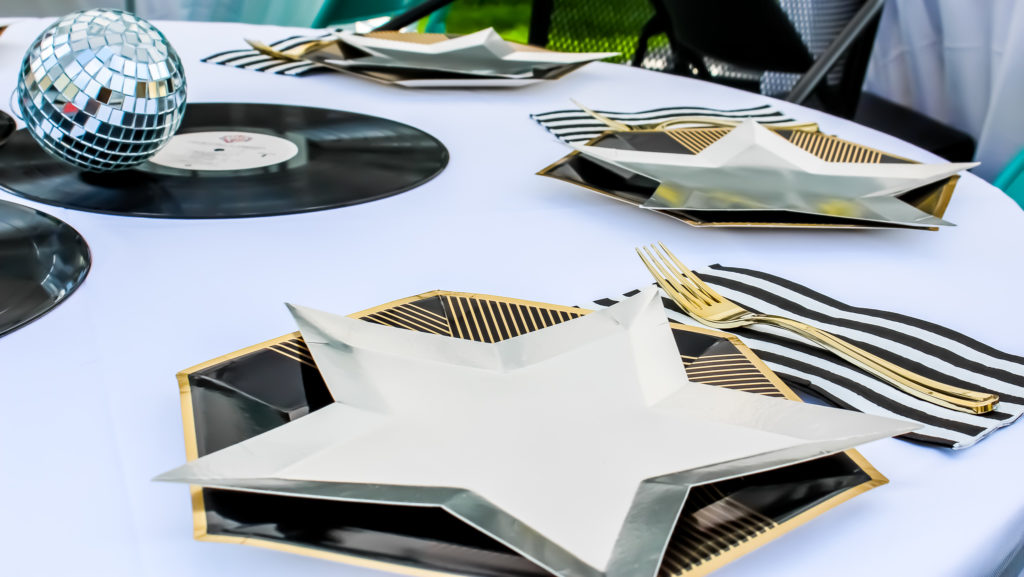 Graham's delicious two-tiered Rock Star Birthday Cake was made by Passion Flour. The top tier was FunFetti and the bottom tier flavor was Red Velvet.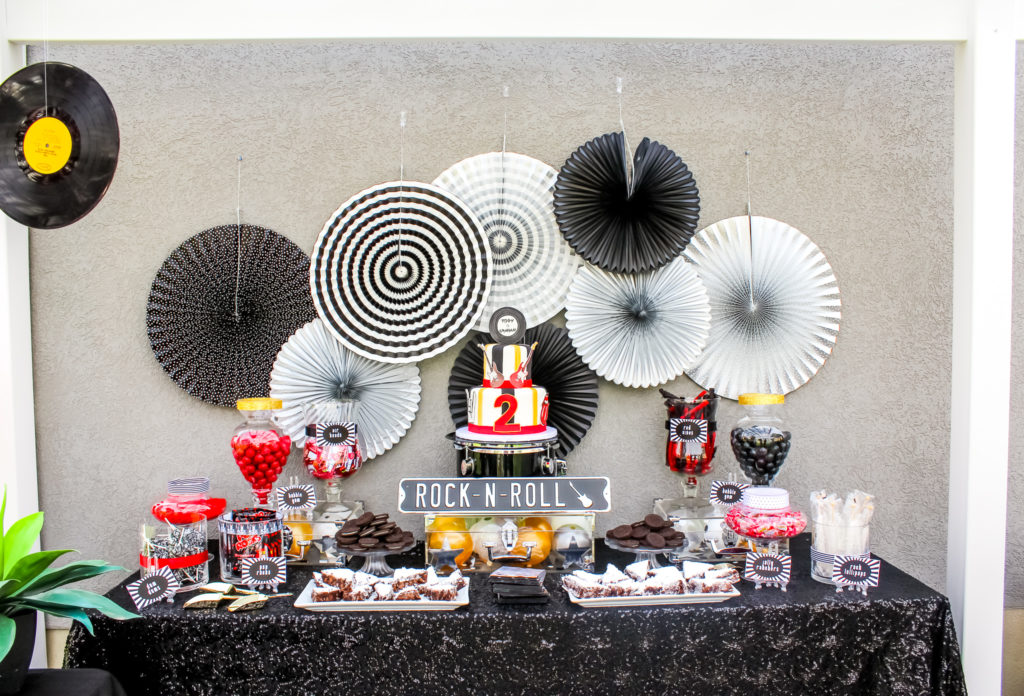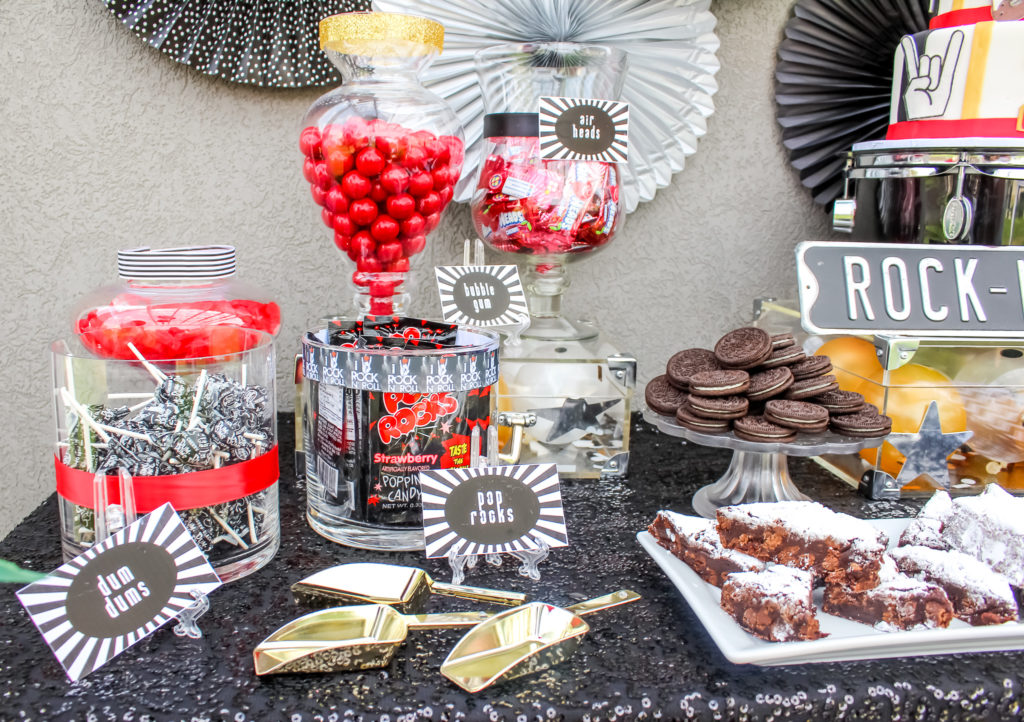 Before each guest left they were able to fill up a goodie snack from our festive RockStar Candy Bar. Each of the items were vegan-friendly of course…
Dum Dums
Pop Rocks
Air Heads
Oreos
Bubble Gum
Sweet Tooth Fairy Vegan Brownies
Red Vines
Rock Candy
We also served a build your own Popcorn Bar. I made homemade popcorn and seasonings to top it off. For the "Cheese" seasoning I used nutritional yeast.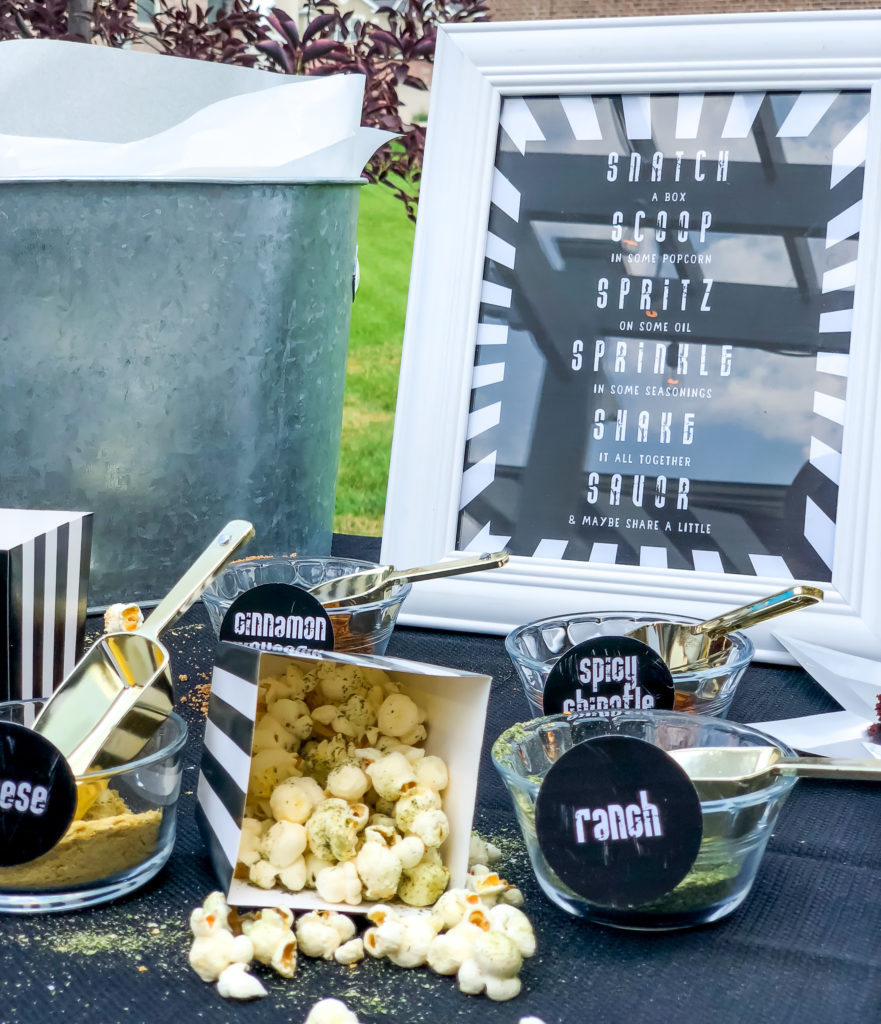 The Tattoo stand was a big hit! It was fun to see everyone's arms and legs filled up with Tats by the end of the party!
The main center stage of this birthday party was Grahams very own Bandstand! We had microphones, blow-up guitars, and even a few real guitars for the guests to play with.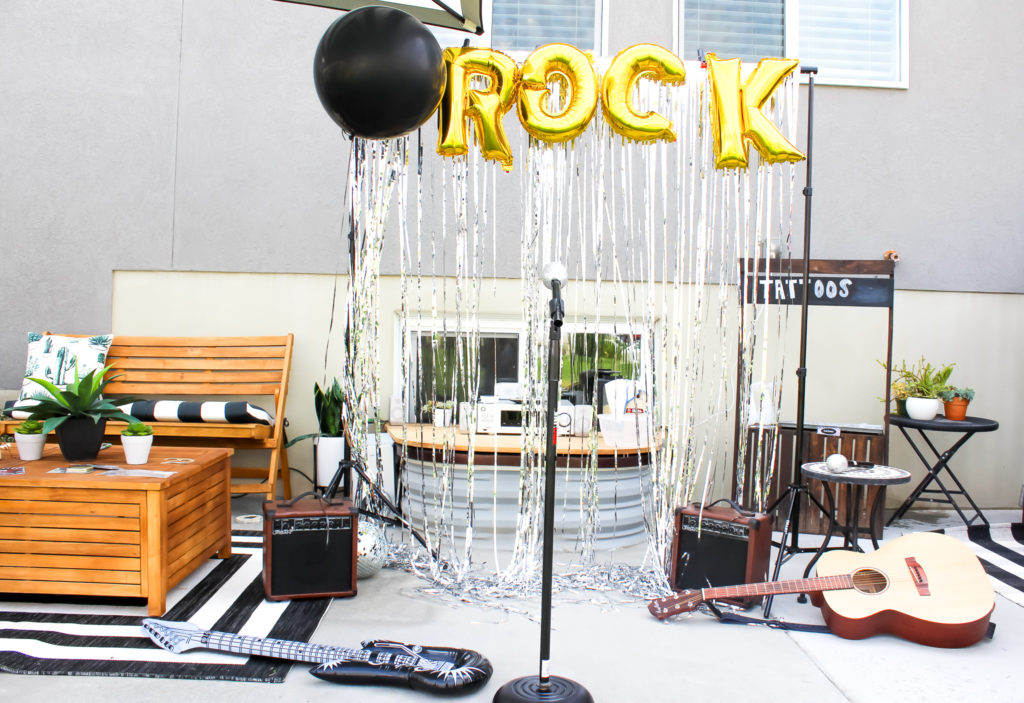 Sean and I complied a Rock N Roll playlist of 96 songs to play throughout the party, and enjoyed watching the guests have a sing-off during their favorite rock songs!
Our activity station for the children was a fun paper Guitar cut out for them to decorate!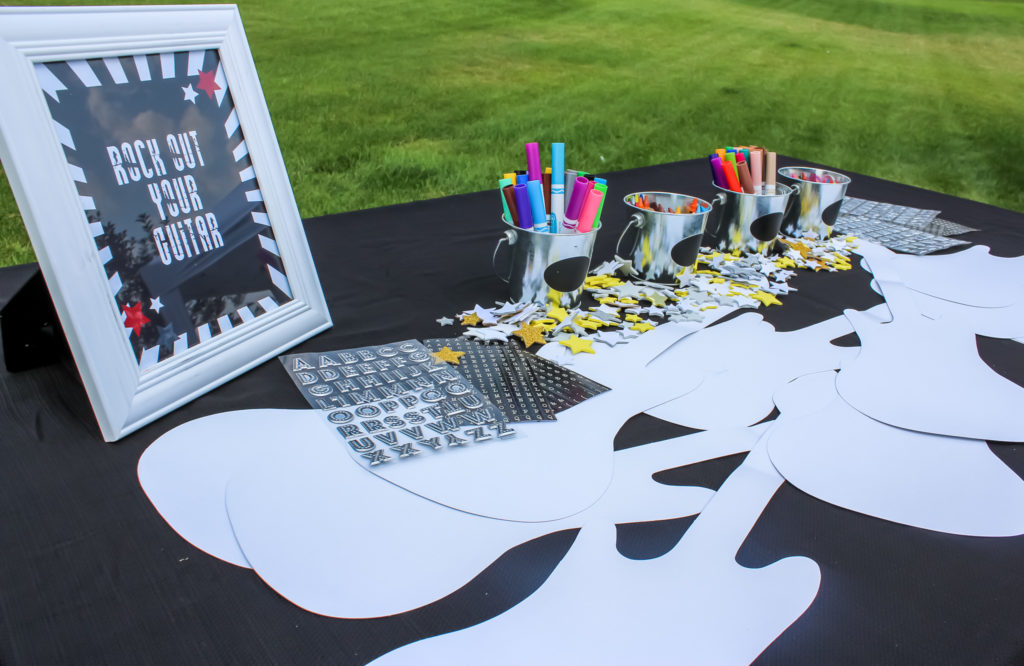 TWO ROCKS!
No other party theme would have done for this little boy! He loves to rock out to music and dance his little heart out! I had a fun time planning this party and when the time came to put it all together, Kenzie Events helped me out tremendously! I had never hired a party planner before and was hesitant at first.  As you know, I love hosting and throwing parties on my own. It's my favorite hobby! I enjoy the process of planning, organizing and setting the events up. But there comes a time when you just need a little help, (I felt like I have pushed myself a bit too much this year and needed to slow down) and I am so glad I trusted Kenzie to help me out.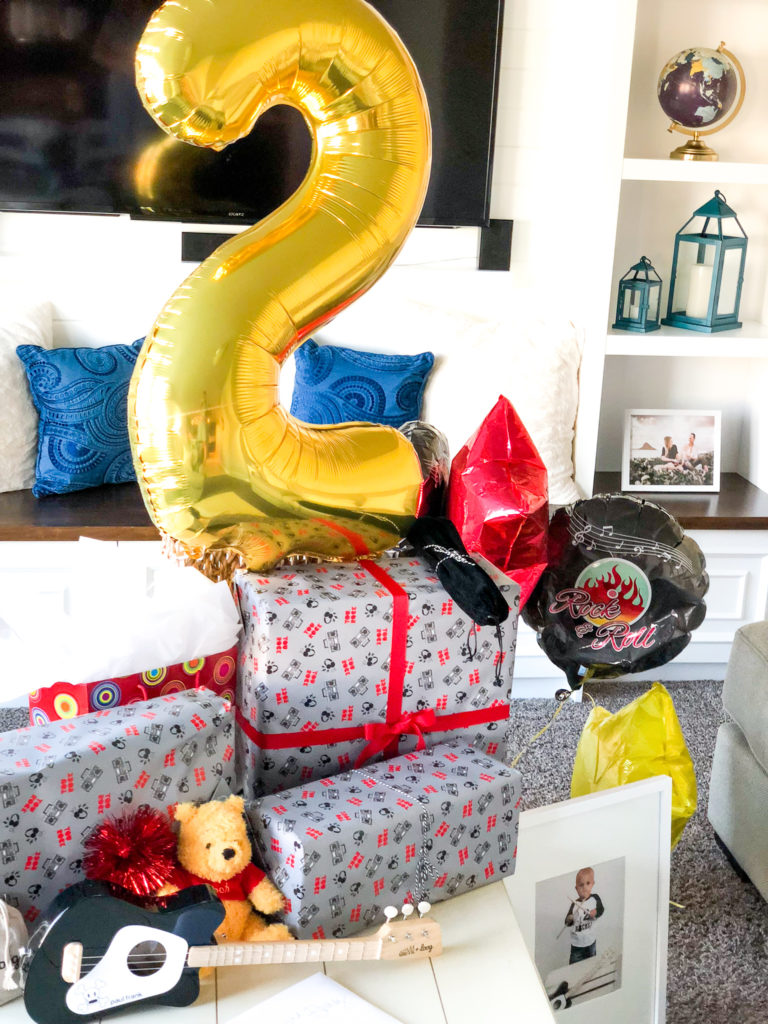 I told her exactly what I wanted regarding decorations, food, decor, and games. She brought my party to life just how I envisioned it!  If you would like to hire Kenzie you can contact her HERE.
I hired Lindsey Hurst Films once again to film all of the fun happenings and great dance moves. If you would like to hire Lindsey you can contact her HERE.
To shop the Candy Bar and Popcorn station details click HERE
To shop the RockStar Band Stage accessories click HERE
To shop the place settings and decor click HERE
To purchase Graham's guitar click HERE
To purchase Graham's outfit click HERE