We could all use more mindfulness in life. It's easy to let stress get to you when planning for a big event that's important to you. We worry about the details (which of course are important). You might have trouble sleeping because you're just so excited about everything! However, when your mental health is starting to suffer, you need to do something, asap. Without being in your best state of mind, how will you focus and make important decisions? We know what it feels like to have a million thoughts racing around our mind at once. Not fun. 
Sometimes, these feelings of excitement transform into worry, anxiety, and even fear. Fear of failing your guests and yourself. These are all normal thoughts when planning anything from a birthday party to a wedding. You only get one shot at the day. You want it to be perfect! Prevent and eliminate worry with these daily mindfulness and meditation apps. We promise you won't regret it. 
Let's dig in to the best apps to de-stress and adopt mindfulness before your event.
Calm- Mindfulness Boost + Meditation available as App or on Desktop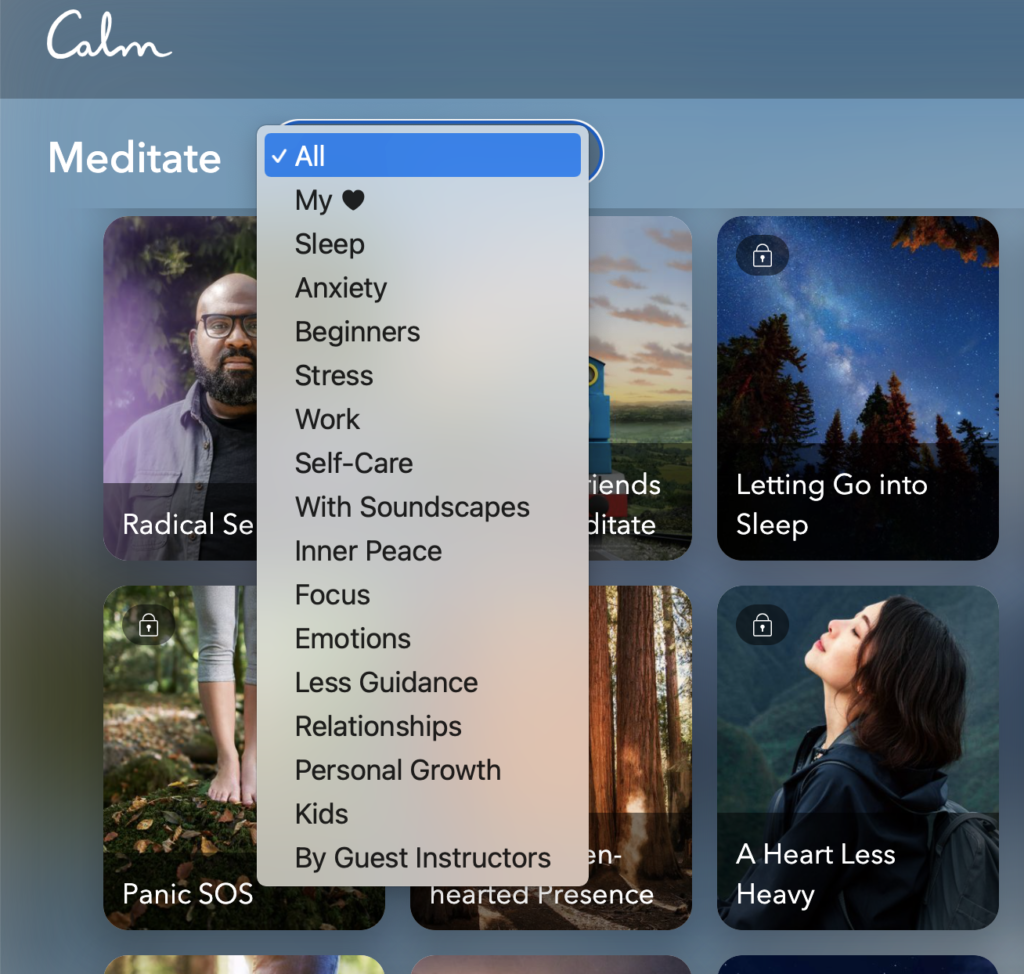 Calm is the #1 mindful meditation app for stress and sleep. It's designed to target all types of issues that may contribute to stress. Calm has multiple 7 day series from 'soothing pain' to 'better sleep' to 'treating anxiety.' Calm has a large free library of music to choose from, ad free. 
The app also has different scenes to choose from, which teleports you to a beautiful nature-scape. From Garden Rain to Evening Crickets, and everything in between. The best part about this is its instant ability to bring you into a calm state. Plus, enhanced mindfulness.
This is especially true when you're on the verge of a mini freak-out. Calm also offers Masterclasses from various professional, available for Premium users. Premium membership is only $42 per year, and you get a LOT for the money. You may love it so much that you end up keeping it after your event! Many reviews claim to have been using Calm Premium for many years. It's probably rated #1 for a reason.
Synctuition- MindSpa & Meditation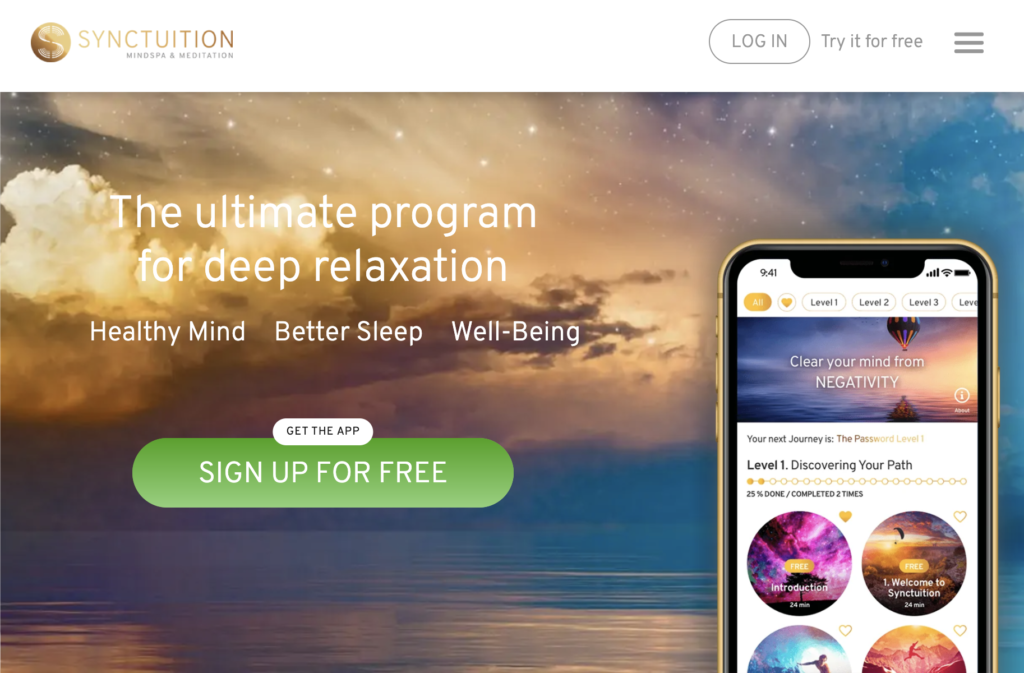 Synctuition is an experience that brings meditation and music to the next level using 3D sounds. They use a personalized frequency through binaural beats gamma waves frequency. All tracks are meshed with rhythmic entrainment and 3D sounds to produce a powerful meditation and mindfulness experience. Synctuition claims that 25 minutes of listening to one of their tracks has the same effect on the mind as 4 hours of deep meditation do. As someone who has personally used Synctuition, I can attest that it is a meditation like no other. You can learn more about the science behind Synctuition here.
Reviewers of Synctuition report being transported to another world through a beautifully crafted ambience and combination of sounds. They are able to fall asleep quicker, conquer the day, and move through life with ease, peace, and clarity.
Synctuition offers a 7 day free trial and three sample meditations to try. Annual membership for Synctuition is $7.99 per month. A lifetime subscription is a one time payment of $399. A small investment for a spa-like mind bath. Perfect for de-stressing months before your event, through planning, or even the night before!
Trust in Synctuition. I promise you won't be sorry.
Wim Hof Method- "The Perfect Partner to You Wim Hof Practice"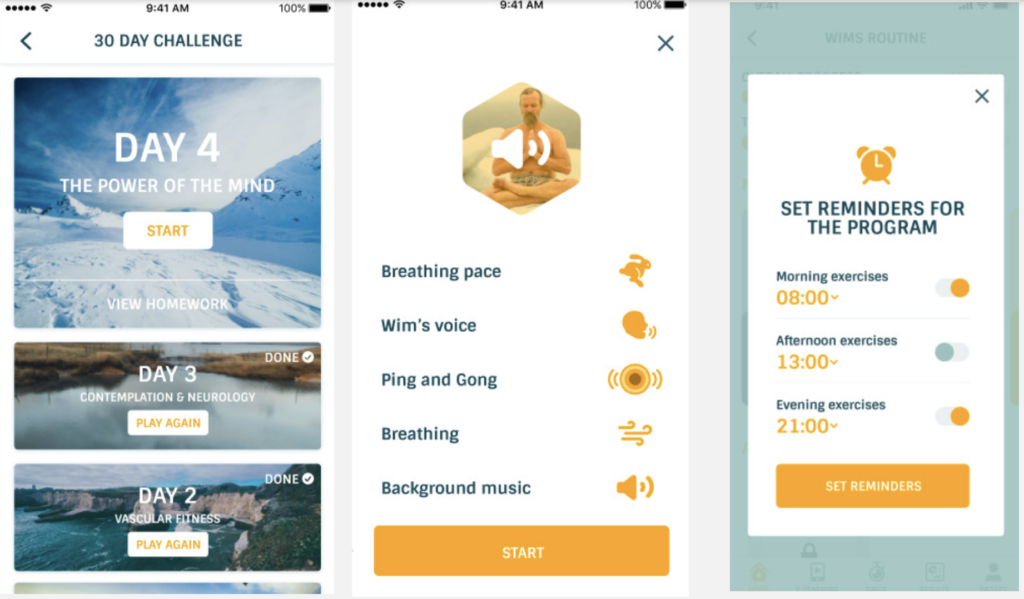 Do you know who Wim Hof is? He is known as "The Iceman." His fame came from taking ice baths in a frozen lake in the middle of winter. Wim is a Dutch motivational speaker who has influenced the world. He is an extreme athlete recognized for the ability to withstand freezing temperatures (and actually enjoying it). Hof has been practicing this method every day for most of his life. Plus he gained recognition after going viral on Youtube and also holds the Guinness World Records for swimming under ice.
The WHM or Wim Hof Method is a breathing technique designed to send your body into heightened oxygen levels. This produces more energy and reduced levels. It may make you feel a little dizzy the first time, which means you're doing it right. It sends power through the body, electrifying you to every corner of your human form. Also, this breathing technique is also incredible for your immune response. It's proven to help with depression, anxiety, mental focus, and pain management. It increases mindfulness and the ability to be truly present in all that we do
The WHM is life-changing. If you are planning a major event and need to stay 100% focused, calm, cool, and collected, THIS is the method for you.
On the app, you have access to a handful of free courses. The annual membership fee is $43, with automatic renewal. My personal favorite part of this app is the guided breathing exercises, led by Wim Hof's voice. It is an experience you can take with you wherever you go. Yes, even difficult planning meetings!
Increase Mindfulness with Headspace Meditation App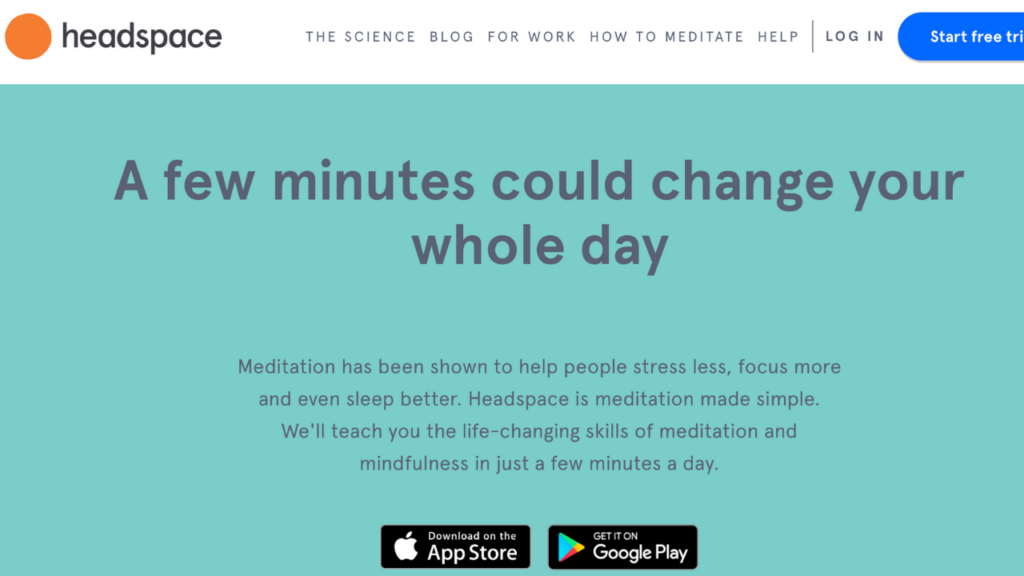 Headspace is an app that teaches you how to meditate. Bonus: it's is the 2nd most downloaded mindfulness app, following Calm. There are meditation programs and single videos. Many meditations are customizable, and you can choose to have your guided meditation narrated by a male or female voice. Furthermore, you have the ability to choose how long your session is, ranging from 3-20 minutes.
There are sections for sleep, movement, and focus. Find the session that works for you. The annual subscription is $70 with a 14-day free trial.
Need help managing tasks for your next event? Download Headspace and let the magic happen.
It's Time to Embrace Mindfulness!
Putting your mental health first should never fall on the back burner. Though, when we move through life with ease and grace, we are able to make better decisions. We can enjoy the planning process more. Our memories are clearer. Each and every day feels clearer. Don't move through life as an event-crazed zombie. Do it the right way. Everything will fall into place.
What's your favorite mindfulness meditation app from this list? Is there one we missed that you want the world to know about? Let us know in the comments!
---