Today's vegan tofu tacos recipe with fajita vegetables is going to take your Taco Tuesdays to the next level! Tofu strips are tossed in spicy chipotle-infused marinade, and cooked to crispy perfection with fajita peppers and onions.
And guess what – you probably have all the ingredients for these tofu tacos at home right now! This recipe is meat free, dairy free, with a gluten free option.
Prep Time: 10 mins Cook Time: 20 mins Tofu Marinating Time: 5 mins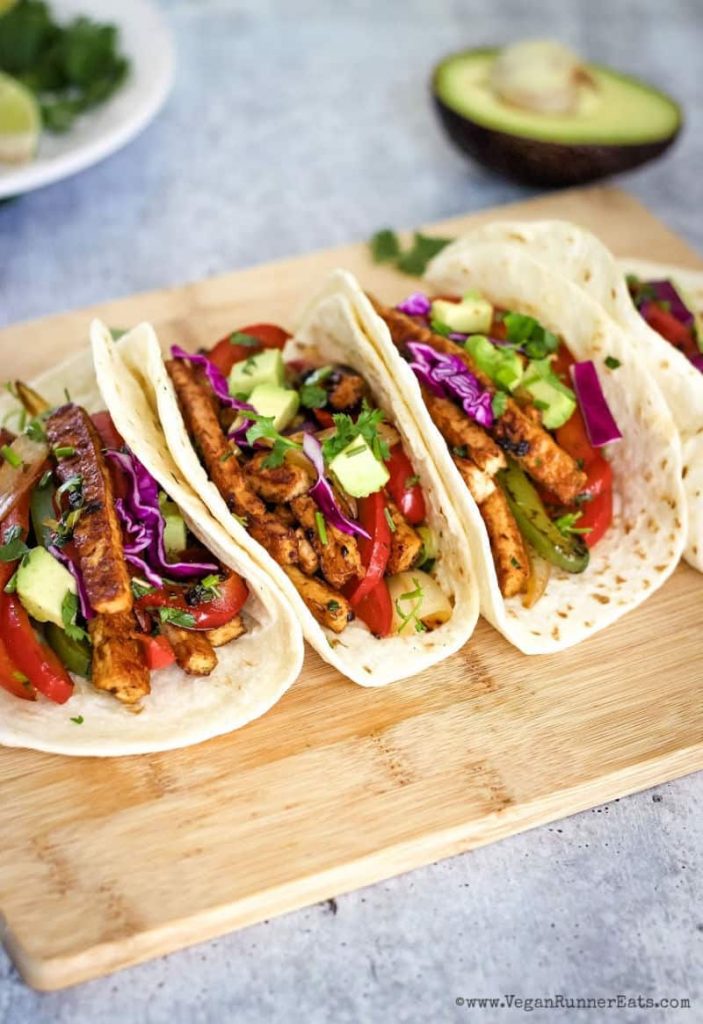 ingredients
1 16-oz block extra firm tofu, drained and pressed
1 large yellow onion, sliced into thin strips
1 red bell pepper, sliced into thin strips
1/2 green bell pepper (or any color you have), sliced into thin strips
2 Tbsp chopped cilantro and/or scallions
Avocado or grapeseed oil, as needed for cooking tofu and vegetables
Tofu Marinade:
4 Tbsp soy sauce (use tamari for gluten-free)
2 Tbsp freshly squeezed lime juice
1 Tbsp agave or pure maple syrup
1 tsp cornstarch
1 Tbsp chipotle powder
1/2 tsp ground cumin
1/2 tsp dried oregano
2 Tbsp water
To Serve:
8 warm taco shells
Your favorite taco toppings – avocado slices, chopped purple cabbage, lime wedges, etc.
instructions
Slice a drained and pressed block of tofu crosswise into 10-12 rectangles of about 1/2 – 1/3 inch thickness. (A tofu press like tofu press like this one is very helpful for pressing tofu).
Cook tofu rectangles in single layer batches in a large heavy-bottomed saute pan with a splash of oil, about 2-3 minutes per side, until each piece becomes slightly crispy and golden in color. Set aside.
While the tofu is cooking, mix all marinade ingredients in a large bowl.
Slice each cooked tofu rectangle into 3 strips lengthwise, being careful not to break them. Gently toss in the marinade, making sure that all tofu pieces are covered in sauce. I usually let my tofu marinate until the fajita vegetables are cooked (about 5 minutes), but feel free to marinate for up to 30 minutes.
Heat 1 Tbsp oil in the same saute pan you used to cook the tofu. Add sliced onions and peppers, and cook over medium-high heat until the vegetables are still crisp but have developed a few charred spots, about 4-5 minutes. Remove, set aside.
Add marinated tofu strips and the rest of the marinade to the same saucepan. Cook over medium heat, tossing gently, until all of the liquid evaporates, and the tofu looks dark, crisp, and slightly sticky.
Add cooked onions and peppers to the tofu, and reheat gently. Remove from heat, sprinkle with chopped cilantro and/or scallions.
Serve with warmed tortillas and your favorite taco toppings – avocado slices or guacamole; vegan sour cream or shredded vegan cheese; chopped purple cabbage; lime wedges, etc. This tofu taco filling also works well in burritos, grain bowls, etc.