Ethan and I met online. He messaged me on OkCupid (in a pre-swiping world), and upon learning we lived 2 and a half hours apart (me, Long Island. Him, Hudson Valley. We were worlds apart), I didn't think we stood a chance. But, after our courting became more serious, I eventually warmed to the idea of living in the mountains. So, after I graduated from Sarah Lawrence College with my MFA, I moved to the Hudson Valley to be closer to him.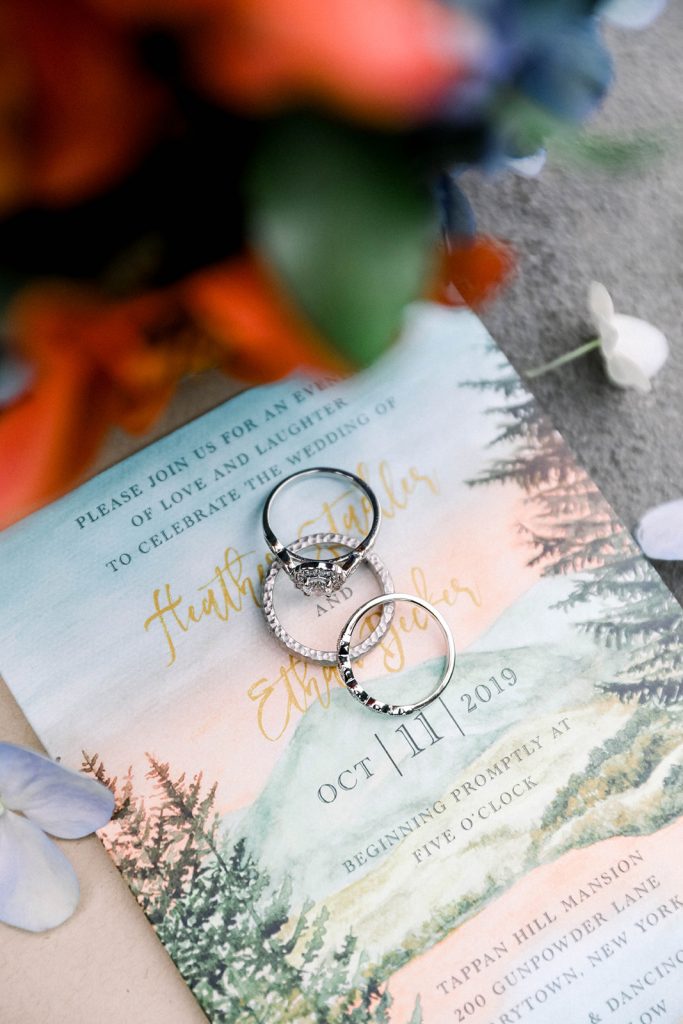 It was then that I began going to animal sanctuaries, as there are many of them close to New Paltz, where I lived. I had been a vegetarian for 9 years. The first time I went to an animal sanctuary and after a few months of transitioning, I became vegan in 2017. Ethan followed closely behind after spending so much time hugging and snuggling turkeys, he said at Thanksgiving "I don't think I can eat the turkey this year."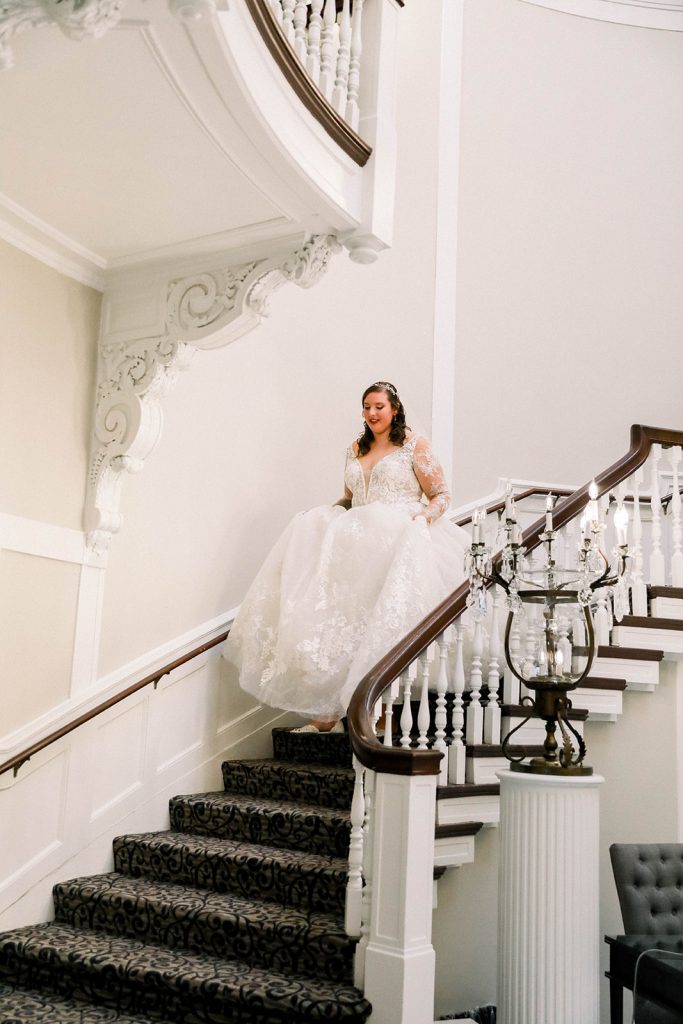 As I fell more in love with Ethan, I also fell hard for sanctuary life and life in the Hudson Valley, and I began working at Catskill Animal Sanctuary in Saugerties, NY as a tour guide. After a full season of educating visitors about farmed animals, and spending time with chickens, turkeys, sheep, cows, and goats, I was hooked. Ethan even joined me as a tour guide the following season.

Since both of us have come to know these animals in a very meaningful way, when we got engaged in 2019, it was never a question that our wedding and all the celebrations that went with it would be 100% vegan, and we (initially) received no pushback from anyone in our family.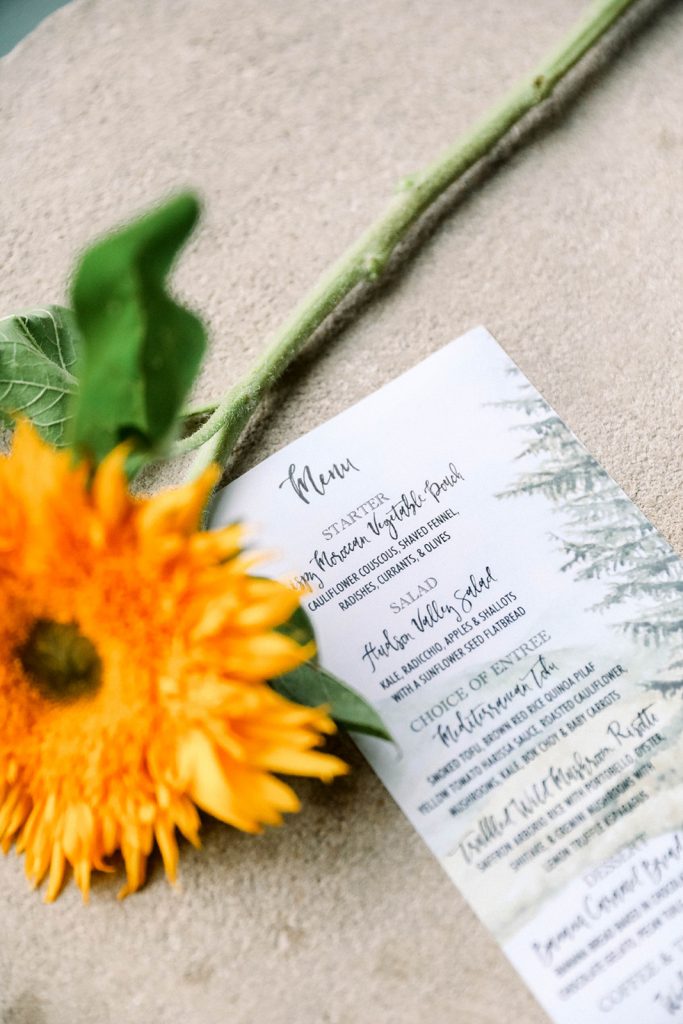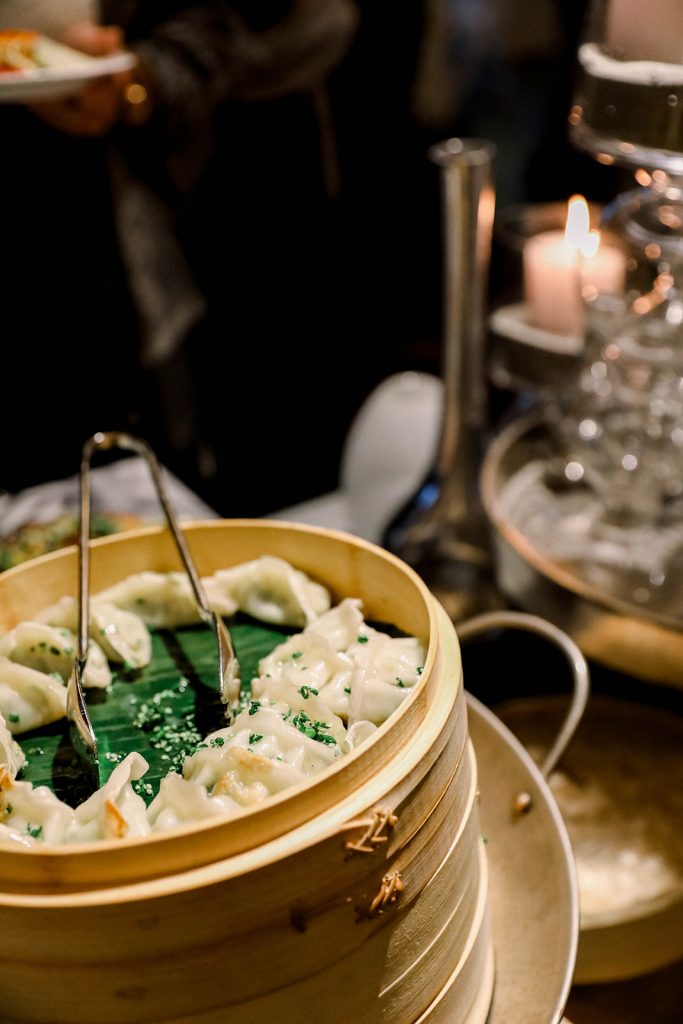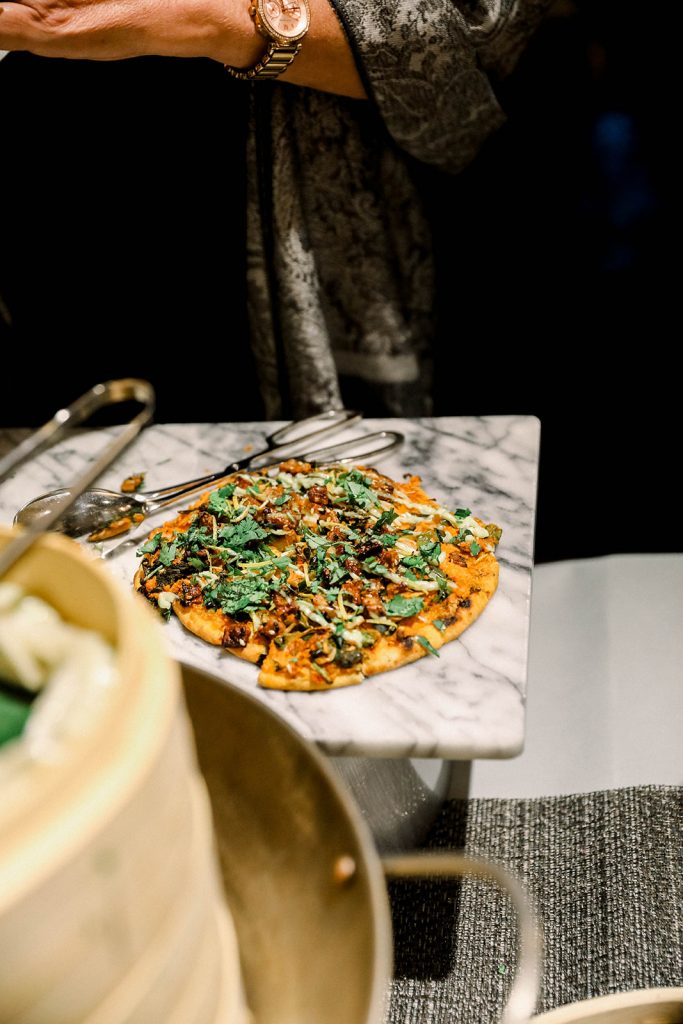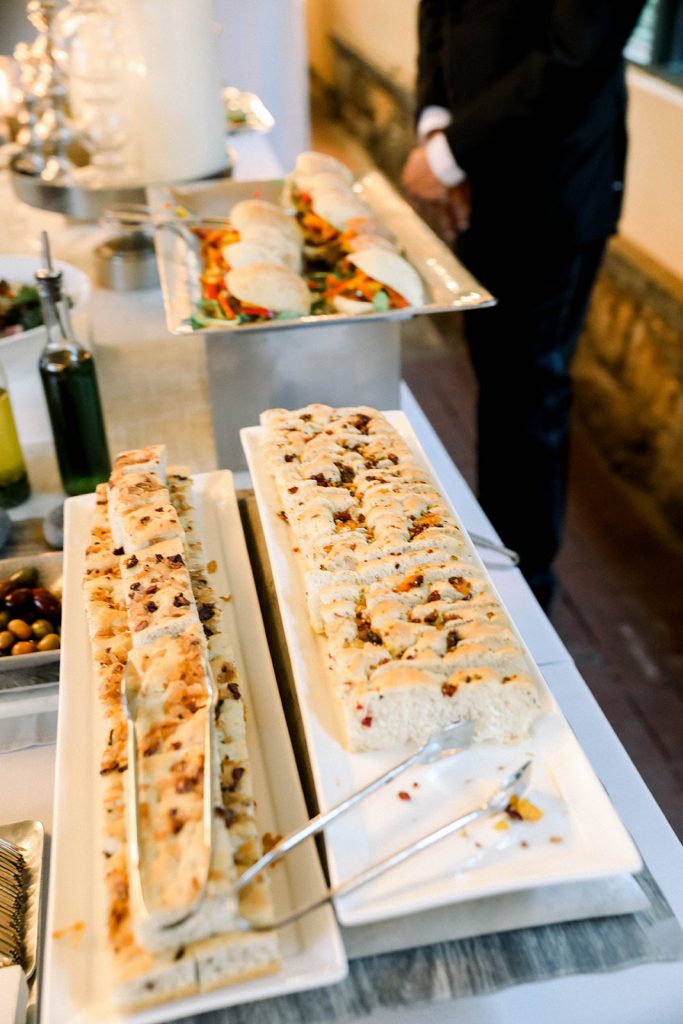 There isn't much out there on wedding planning apps to help in planning a vegan wedding, so we did much of the research ourselves. Every single inquiry we sent out had the question, "Can you accommodate an all-vegan wedding?"
Since we planned the wedding ourselves, we were not big on the option of building our own menu, as many places offered. We felt that we wanted chefs who were experienced with vegan recipes and could WOW our guests with the food. The mantra I kept repeating was "I want the food to be so good that the fact that it's vegan is the least interesting thing about it."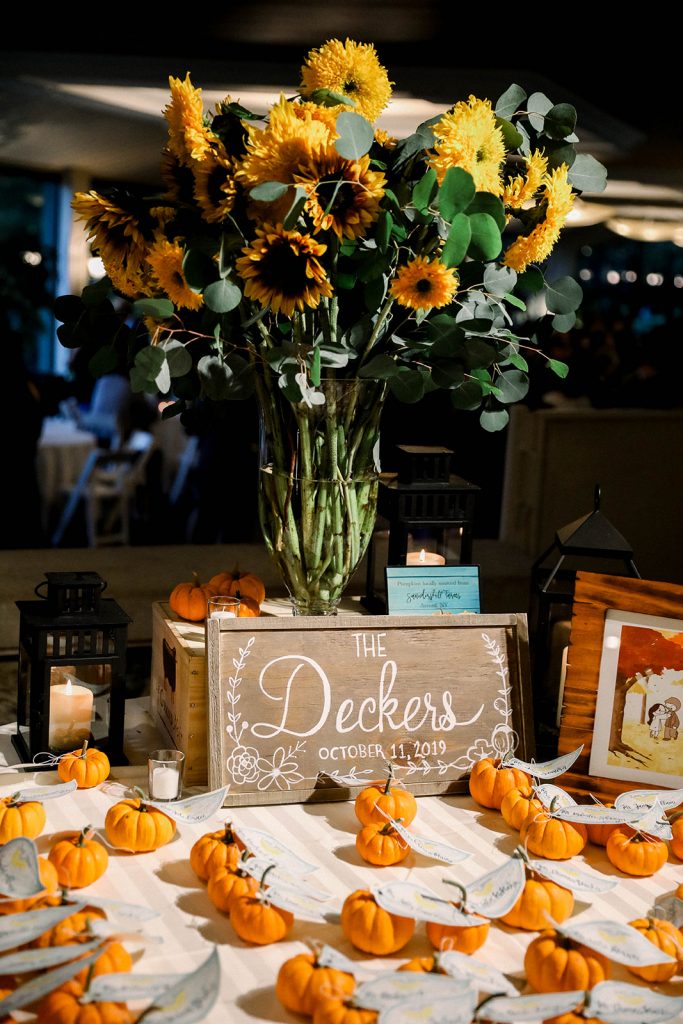 It wasn't easy to fit the bill, apparently. We toured place after place, and were even told once by "Oh, a vegan wedding? I'm going to try to talk you out of that one…" Safe to say we didn't end up there. We wound up falling in love with Tappan Hill Mansion, a beautiful venue in Tarrytown, NY, which boasted a well-established vegan menu, beautiful views, and a breathtaking reception hall.
Ethan and my vegan values informed the rest of our wedding planning as well. I made sure that my dress didn't have silk or animal fibers, and Ethan and our groomsmen worked hard to find suits that were wool-free (which was quite a feat!). After we were practically laughed out of Men's Wearhouse, we wound up purchasing suits through ASOS.
We did receive pushback from our families regarding the other events surrounding the wedding, surprisingly enough. The rehearsal dinner and next-day breakfast were easy enough to plan, but not as easy to sell to omnivorous parents. After a lot of discussions about both of us holding true to our values for all of our celebrations, we did finally agree to vegan fare.
We wanted to help people understand why we chose to have all of our events completely vegan instead of just offering vegan events, so on the back of our menu cards, we included a photo of the two of us cuddling a chicken and some statistics based on what we could find online for our number of guests.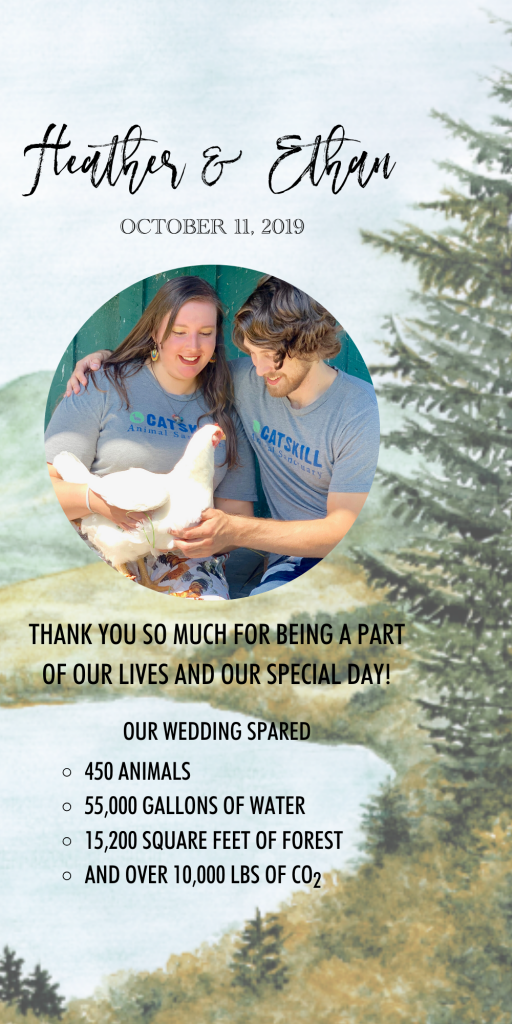 Start to finish, our wedding was the more perfect than I could ask for. From the cocktails, to the main courses, to our cake… from my head to my toes, our wedding was quintessentially us.
Both of our backgrounds in Sanctuary work really helped guide us through this process because it gave us the ammunition we sometimes needed to stand up for our beliefs. Planning a wedding is not easy, especially when you have pressures from close family and friends about personal choices, and when you're so dedicated to a cause. For us, we know that any and all celebrations we have going forward can and will be vegan, and can and will delight the doubters.
Vegan food is good!

Our Vendors:
Venue: Tappan Hill Mansion
Photographer: Hope Kauffman Photography
Makeup Artist: Rita Makeup
Dress: Designer Loft NYC
Rehearsal Dinner: Good Choice Kitchen
Hotel Accommodations & Breakfast: Westchester Marriott
Florist: Forever in Bloom